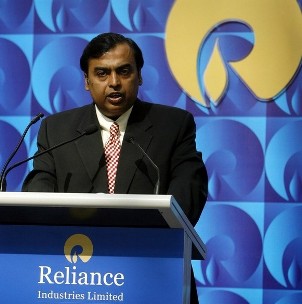 Reliance Industries (RIL), India`s largest company, registered a 32.32% y-o-y growth for the first quarter of financial year 2011 to Rs 48.51 billion. It posted an 86.71% y-o-y jump in net turnover to Rs 582.28 billion during the same period.
During the quarter,
Exports jumped 103.5% to Rs 328.49 billion.
Cash profit climbed 46.1% to Rs 85.36 billion.
Gross refining margin stood at USD 7.30 a barrel.
Independent Analyst, SP Tulsian had projected RIL`s net profit of Rs 47.35 billion while net sales was estimated at Rs 573.50 billion.
After the results, Mukesh D. Ambani, Chairman and Managing Director, Reliance Industries said, ``We had yet another record quarter due to high operating rates and improving margins across all our businesses. Reliance embarked on two major initiatives to create incremental value. We entered into joint ventures in shale gas to internationalize and diversify our upstream portfolio. Reliance has also committed itself to participate in the high growth and exciting area of broadband wireless. Both these initiatives are in line with the strategy to identify and invest in new, value creating businesses.``
Shares of the company gained Rs 1.45, or 0.14%, to settle at Rs 1,053.50. The total volume of shares traded was 549,603 at the BSE (Tuesday)