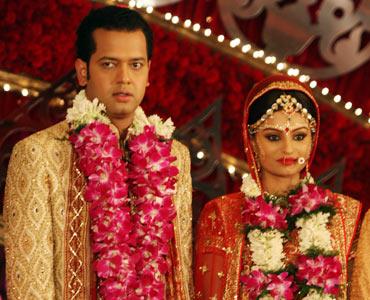 Dimpy left Rahul's house after he physically abused her and has now decided to never return back to Rahul's house.
Reports also suggest that Rahul punched, kicked and dragged Dimply by her hair after which Dimpy called her father and left.
Dimpy got married to Rahul on Imagine TV's reality show Rahul Dulhaniya Le Jayega on March 6, 2010 this year.
A source close to the couple has said: The beatings had started a month after their much-publicised wedding on national TV but in the last one month it has increased.
The report also quoted Dimpy as saying that during one of her fights Rahul had pointed a gun at her.
This is not the first time Rahul, son of late Bharatiya Janata Party leader Pramod Mahajan, has been accused of domestic violence.
His first wife Shweta Singh, who was his childhood friends, had also accused him of physically abusing her. Shweta filed for divorce on 13 December 2007 on grounds of incompatibility and mutual consent of both parties.